Bible Quotefalls Volume 1
"Decode each puzzle to reveal a Scripture verse..."
Fun and enjoyment for the whole family!
All the Quotefalls are BIBLE RELATED using both the King James Version (KJV)
and the New International Version (NIV)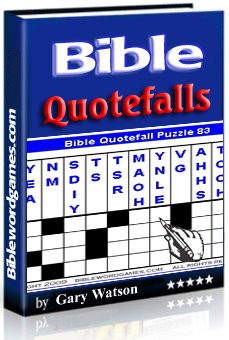 Excellent for Bible study !!


Hi Fellow Puzzlers,

This puzzle E-book has Over 110 Scripture verse Quotefalls puzzles to print out.. Enjoyment for the whole family.

FREE SAMPLES

are available on my Bible word puzzles website at: http://biblewordgames.com

Use these Quotefalls in:Church newsletters, bulletins handouts newspapers, youth groups



Bible Quotefalls Vol.1 is Available for Instant Download,
with Easy and Safe payment by credit card.

Bible Quotefalls comes in PDF format for instant download and is available in the print out only version at this time.
Bible Quotefalls Sample
Bible Quotefalls Vol.1 is an E-book (Electronic Book)

NOT

an actual book

It comes in the Adobe PDF

format

and will display on Windows PCs and Mac
To use the PDF file you will need the
Adobe Acrobat Reader which is FREE and available at:

REMEMBER...

Bible Quotefalls puzzles are fun

Quotefall puzzles develop logic, reasoning skills and brainpower

Quotefalls are great time-fillers for a spare moment, in the home and at church

You can print multiple Quotefall puzzles for your church, club or youth group

Excellent value at only $6.88 - that's less than 7 cents a puzzle!

Pay with all major credit cards or use your Paypal account


Available for Immediate Download!
P.S.: Click the button or link above to secure your copy of Bible Quotefalls Vol.1 right now!
Sincerely,
Gary W.Watson
www.BibleWordGames.com